2013 là một năm của những ý tưởng lớn, năm của những Phim quảng cáo thành công với những thông điệp mạnh mẽ truyền tải đến với người tiêu dùng của các agency trên khắp thế giới. Với sự phong phú của các kênh quảng bá, sự phát triển của internet mà các nhà quảng cáo đã tiếp tục vượt qua giới hạn 30 giây, 60 giây, 90 giây, thậm chí là 1 phút như 2 trong 10 video được giới thiệu dưới đây. Quảng cáo ở vị trí số 1 với độ dài 3 phút đã chiếm được yêu thích và được chia sẻ trên toàn thế giới, đó cũng chính là thế mạnh của internet góp phần vào những phương thức quảng cáo mới.
Các logo thay đổi thiết kế đáng chú ý nhất năm 2013
Những ngày cuối năm này, RGB.vn mời bạn cùng điểm qua những TVC xuất sắc nhất của năm 2013 do Adweek bình chọn.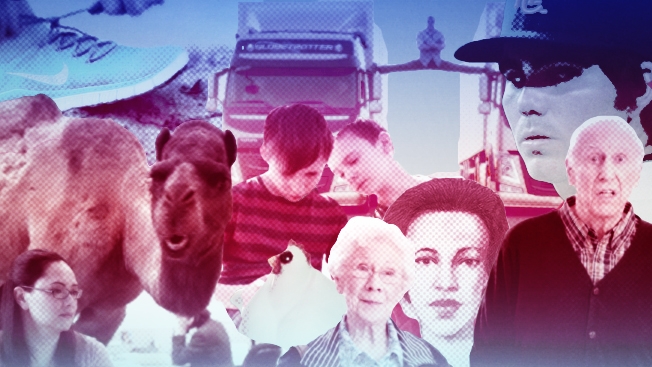 10. Ship My Pants
CREDITS
Client: Kmart
Vice President, Marketing Planning: Andrew Stein
Vice President, Creative: Mark Andeer
Vice President, Chief Digital Marketing Officer: Bill Kiss

Agency: Draftfcb, Chicago
Chief Creative Officer: Todd Tilford
Executive Vice President, Executive Creative Director: Jon Flannery
Senior Vice President, Creative Director: Howie Ronay
Vice President, Creative Director, Copywriter: Sean Burns
Agency Producer: Chris Bing

Production Company: Bob Industries
Executive Producers: T.K. Knowles, John O'Grady, Chuck Ryant
Producer: Brian Etting
Director: Zach Math
9. Chipotle "The Scarecrow"
CREDITS
Client: Chipotle
Agency: CAA Marketing
Animation: Moonbot Studios
Music: Fiona Apple
Music Supervision: duotone audio group
8. Robinsons "Pals"
CREDITS
Client: Robinsons
Agency: BBH, London

Production Company: Academy Films

Director: Si & Ad
Executive Producer: Lizie Gower
Producer: Dom Thomas
Director of Photography: Barry Ackroyd
Postproduction: The Mill
Editor, Editing House: Joe Guest @ Final Cut
Sound: Nick Angell
7. Volvo Trucks "The Epic Split feat. Van Damme"
CREDITS
Client: Volvo Trucks
Agency: Forsman & Bodenfors, Gothenburg, Sweden
Agency Producer: Alexander Blidner
Director: Andreas Nilsson, Folke Film
6. Nike "Possibilities"
CREDITS
Client: Nike
Spot: "Possibilities"

Agency: Wieden + Kennedy, Portland, Ore.
Global Creative Directors: Alberto Ponte, Ryan O'Rourke
Agency Executive Producer: Matt Hunnicutt
Copywriter: Edward Harrison
Art Director: Sezay Altinok
Agency Producer: Anna Smith
Agency Associate Producer: Kirsten Acheson
Account Supervisor: Vanessa Miller
Account Director: Karrelle Dixon
Head of Production: Ben Grylewicz
Executive Creative Directors: Joe Staples, Susan Hoffman
Business Affairs Manager: Amber Lavender

Production Company: MJZ
5. Dick's Sporting Goods "Every Pitch"
CREDITS
Client: Dick's Sporting Goods
Spot: "Every Pitch"

Agency: Anomaly
CCO: Mike Byrne
Creative Director: Seth Jacobs
Creatives: Taylor Twist, Mike Warzin
Brand Director: Damien Reid
Head of Broadcast Production: Andrew Loevenguth
Producer: Chris Noble
4. Geico "Hump Day"
CREDITS
Client: Geico

Agency: The Martin Agency, Richmond, Va.
Chief Creative Officer: Joe Alexander
Group Creative Director: Steve Bassett
Creative Director: Wade Alger
Creative Director, Art Director: Sean Riley
Senior Copywriter: Ken Marcus
Executive Broadcast Producer: Molly Souter
Producer: Samantha Tucker
Junior Producer: Emily Taylor
Strategic Planner: Melissa Cabral
Group Account Director: Chris Mumford
Account Director: Liz Toms
Account Supervisor Parker Collins
Account Coordinator: Carter Crenshaw
Project Manager: Susan Karns
3. Guinness "Basketball"
CREDITS
Client: Guinness
Agency: BBDO New York
Chief Creative Officer: David Lubars
Executive Creative Director: Greg Hahn
Executive Creative Director: Mike Smith
Executive Creative Director: Will Boudreau
Senior Creative Director/Art Director: Dan Lucey
Senior Creative Director/Copywriter: Chris Beresford-Hill
Senior Creative Director/Copywriter: Tom Kraemer
Director of Integrated Production: David Rolfe
Executive Producer: Kevin Wilson
Senior Content Producer: Tricia Lentini
Executive Music Producer: Loren Parkins
Production Company: Biscuit Filmworks
Director: Noam Murro
Managing Director: Shawn Lacy
Executive Producer: Colleen O'Donnell
Line Producer: Emily Skinner
Edit House: Work Editorial Inc
Editor: Neil Smith
Assistant Editor: Adam Witten
Sound Design: Brian Emrich
Sound Mixer: Tom Jucarone
DOP: Simon Duggan
Color: CO3
VFX: Absolute Post
2. RAM "Farmer"
CREDITS
Client: RAM
Agency: The Richards Agency, Dallas
Creative Group Head/Copywriter: Rob Baker
Creative Group Head/Art Director: Jimmy Bonner
Producer: Paul Nelson
Art Buyer/Producer: Deb Grisham
Photography: William Allard, Andy Anderson, Jim Arndt, Daniel Beltra, Mark Gooch, Andy Mahr, Kurt Markus, David Spielman, Matt Turley, Olaf Veltman
Editor: Brent Herrington, 3008
Sound Engineer: Matt Cimino
1. Dove "Real Beauty Sketches"
Chỉ 4% phụ nữ trên thế giới nghĩ rằng họ đẹp, Dove khẳng định. Do đó, thông điệp dành cho chiến dịch này đơn giản là: Làm cho phụ nữ cảm thấy tự tin hơn với chính họ. Ogilvy Brazil đã làm nên một Video rất xúc động và ý nghĩa cho chiến dịch được viral rất tốt này. Angency đã nhờ họa sỹ Gil Zamora vẽ phác thảo lại những người phụ nữ theo mô tả của họ mà hoàn toàn không được nhìn thấy người được vẽ. Sau đó, ông vẽ tiếp tục vẽ lại nhân vật đó nhưng qua lời mô tả của một người khác. Kết quả thật bất ngờ, với một thông điệp hết sức tuyệt vời: "Bạn đẹp hơn bạn nghĩ".
CREDITS
Client: Dove
Agency: Ogilvy & Mather, Brazil
Creative Director: Anselmo Ramos
Copywriter: Hugo Veiga
Art Director: Diego Machado
Agency Producer: Veronica Beach
Production Company: Paranoid US
Director: John X Carey
Director of Photography: Ed David
Producer: Stan Sawicki
Executive producer: Jamie Miller
Editorial: Rock Paper Scissors
Editor: Paul Kumpata
Executive Producer: Carol Lynn Weaver
Colorist: Sean Coleman, Company 3
Sound Mix: Subtractive
Original music: Keith Kenniff, Unseen Music
RGB.vn | Theo AdWeek