From signature buildings to small alleys, busy food stalls to hidden coffee houses, the iconic red plastic chairs to thrilling bike rides through Saigon's bustling traffic, Daniel Tingcungco captures the city's essences like never before in his stunning artwork series 100 Views of Saigon.
Đọc phiên bản tiếng Việt tại đây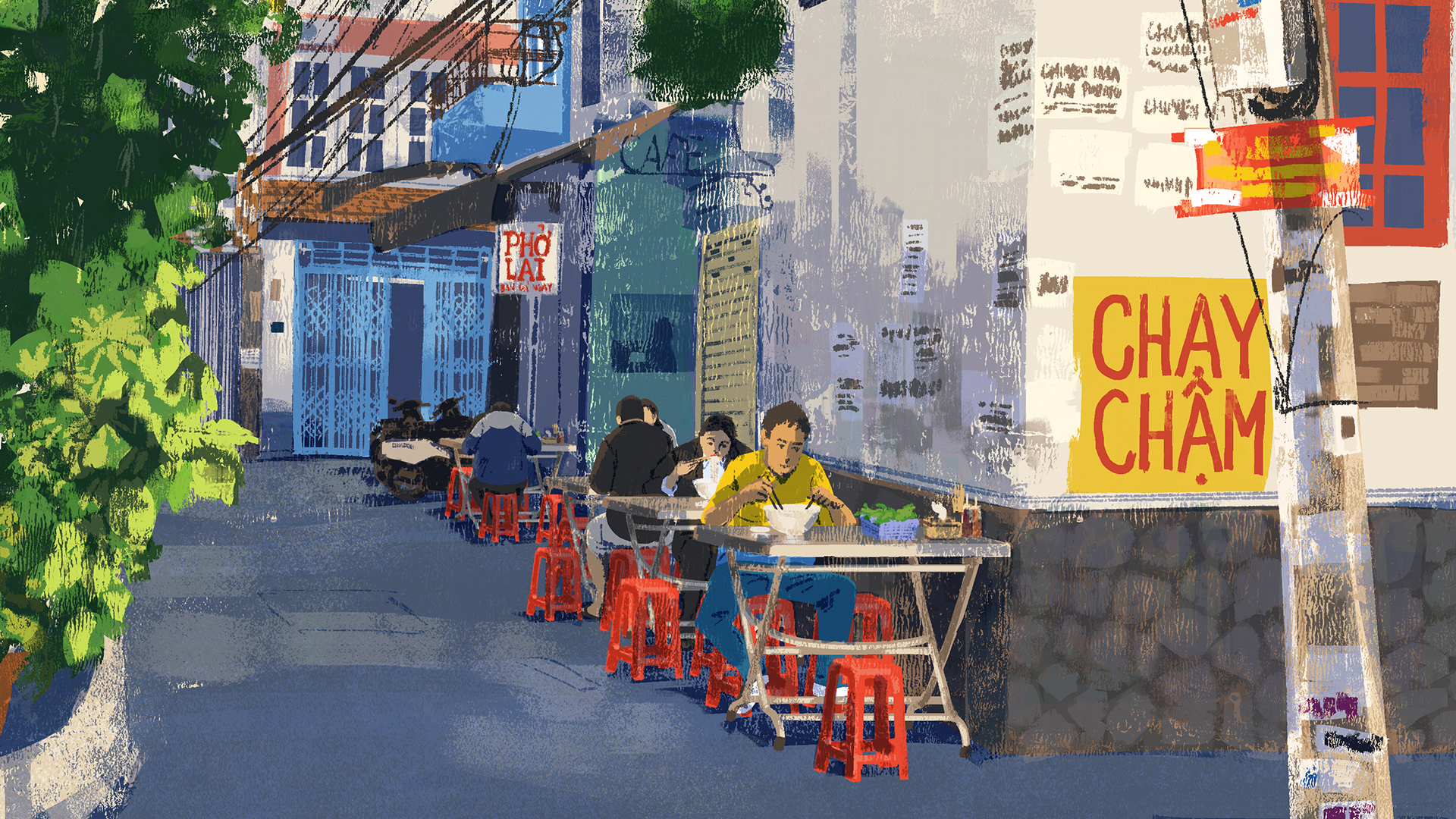 RGB had the chance to feature the series when Dan (as friends would call Daniel) was still making them. Since then, every time he uploads a new painting of Saigon on his Instagram, it puts a smile on our face. The city through Dan's fresh eyes is such a colorful canvas with lots of attention to detail in every stroke and dipped in emotions that even Saigonese may not pay attention to or sometimes take for granted. Every picture seems to have a little story about the city in it, and that's what makes it so endearing: views of Saigon from an expat's perspective that touches the hearts of locals.
Having lived in Vietnam for more than two years and currently working as an Art Director for advertising agency Leo Burnett Vietnam, Dan decided to make the series last year's Tết as a way for him to discover the city in his very own approach.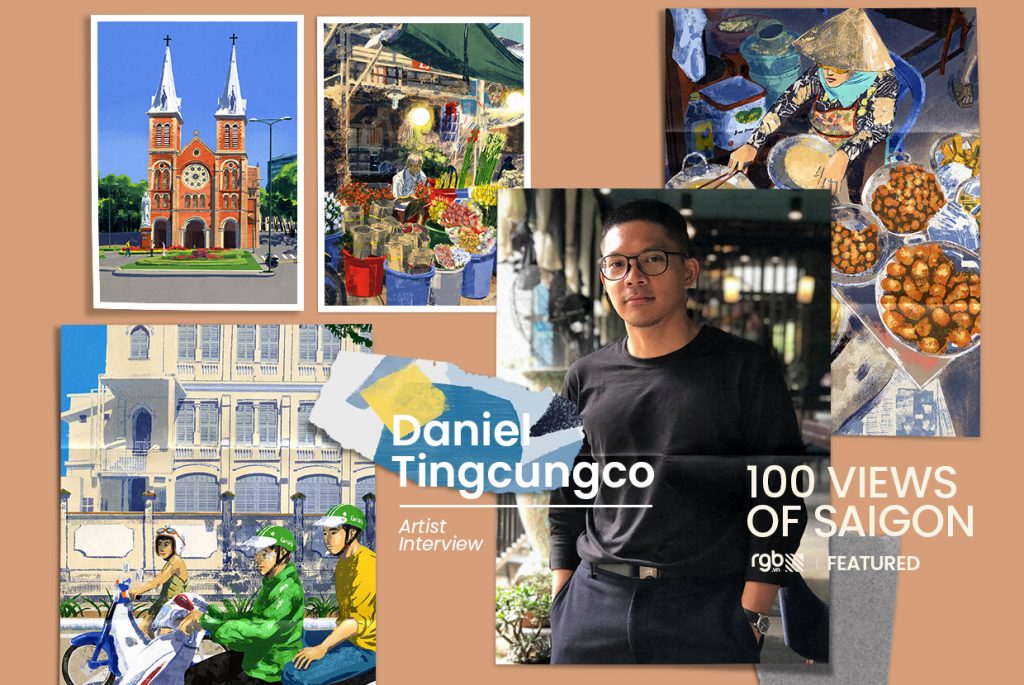 The series was completed in early July right when the whole city got into a strict social distancing rule because of the pandemic. And to many of us who are sheltering in place, those soothing pictures of 100 Views of Saigon are like a nostalgia of the city we all miss and are dying to embrace soon again. Hence the reason why the project has been so loved and shared many times on the internet.
RGB once again had the opportunity to chat with the talented (but also a bit shy) artist to share about this wonderful project. Now, get your cup of cà phê sữa đá ready as we walk (virtually, of course) through the city and get some in-depth details on Dan's creating process of 100 Views of Saigon.
— Hi Dan! First of all, congratulations! How does it feel when you finally get to finish 100 Views of Saigon?
Dan: Thank you so much, it's very fulfilling, it's a mix of emotions because I finally completed it. At the same time also a bit sad because of that, as there are a lot more views deserving to be drawn for sure!
— What inspired you to create this project? How did you come up with the idea to make this series?
Dan: I first arrived in Saigon during Tết – Lunar New Year of 2019. It was a new adventure for me, not knowing what to expect for the next few years of my life moving here. After a week, I'd say I fell in love, and maybe I still am, fast forward to more than two years – especially now that I have just finished 100 Views of Saigon.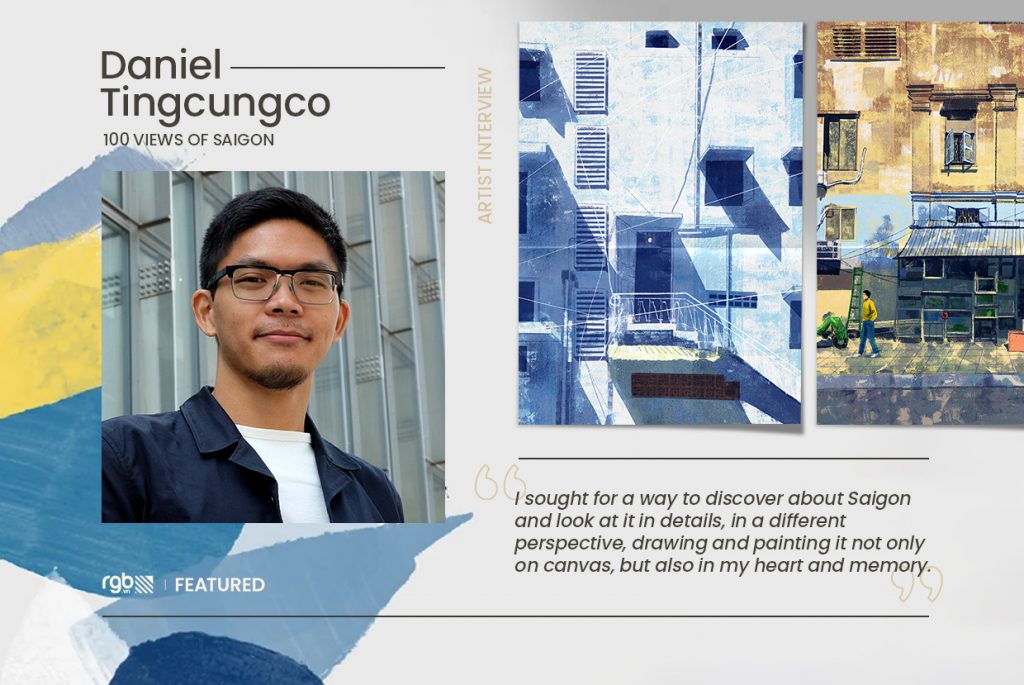 This project has been a journey in many ways as it takes after my previous series of 100 Views of Manila. I wasn't planning to work on it actually as I had initially planned for other projects. But after friends encouraging me, and not knowing much about the city or Vietnam except for typical touristy information and the misconceptions about it, I sought for a way to discover about Saigon and look at it in details, in a different perspective, drawing and painting it not only on canvas, but also in my heart and memory.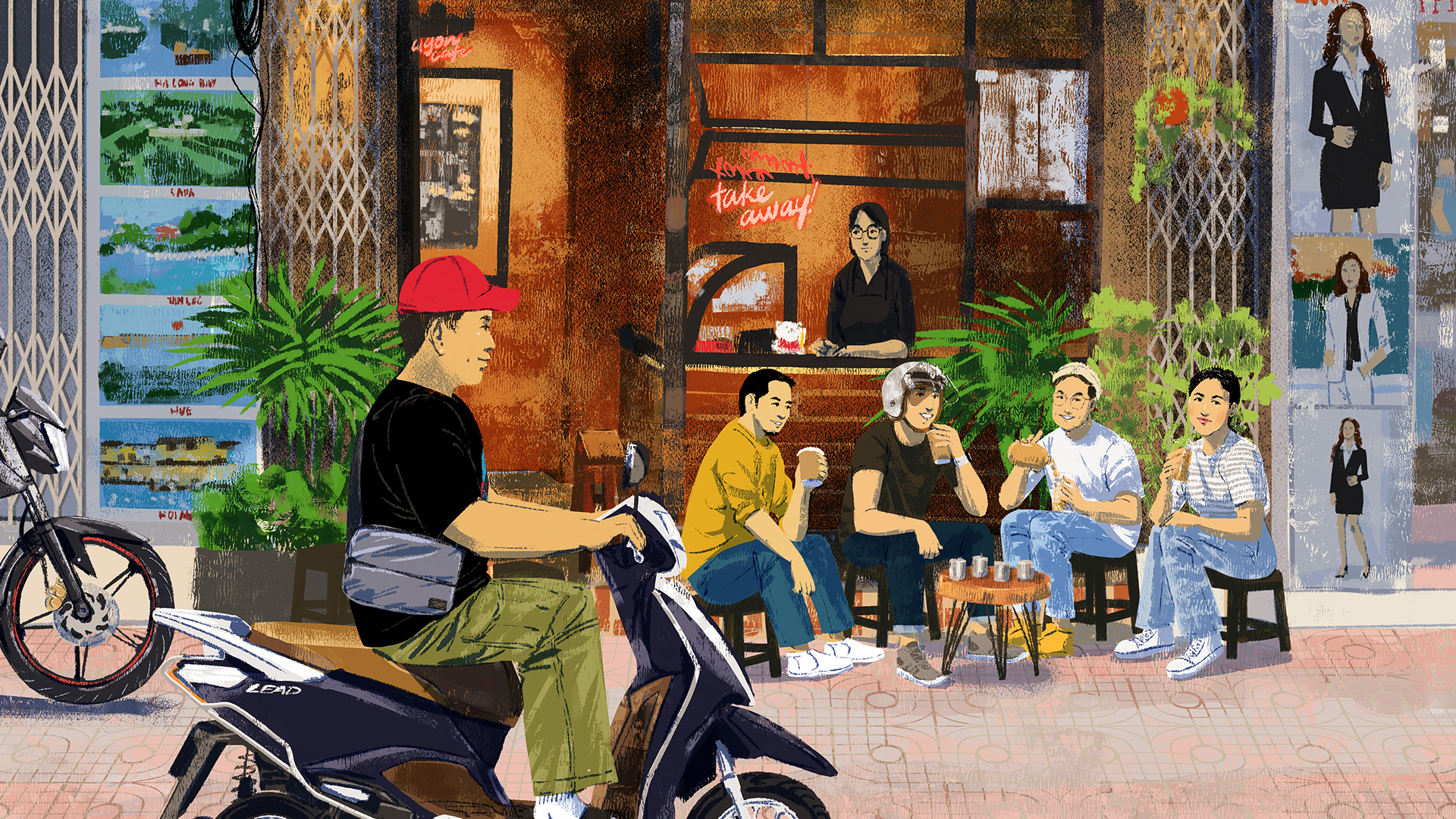 Same as how I wanted to capture Manila, I would like people to see Saigon, through this project, with fresh eyes. I would like to share a whole new feeling for those who currently live here, those who have, and those who have never been – Saigon is more than just its misconceptions and its tragedies in the past, like a lotus, it blooms in this place of many dreams that thrive and grow so progressively. It's not perfect, as with any other place, but that's also what makes it a place that so many people love so much.
— What was the creative process like? Can you share with us how you made these artworks?
Dan: When I started this during last year's Tet, where there's limited access due to lockdown restrictions, I went through the photos I've collected the past months and began the project as a way for me to "travel" without going out. Friends also recommend some places, and some are also random finds as well that I encounter with my walks or online.
Also having bought then, Tim Doling's Saigon-Cholon: The Vanishing Heritage of Ho Chi Minh City, it helped me appreciate so much of the places and architecture around the city I would otherwise not know about, also very valuable are the walking guides he put in to maximize going around each area and district, which I went when it was safe to go around again.
I also read Mel Schenk's Southern Vietnamese Modernist Architecture: Mid Century Vernacular Modernism with beautifully captured photographs by Alexandre Garel and also the recently published Poetic Significance: Sài Gòn Mid-Century Modernist Architecture by Phạm Phú Vinh. Both books have opened my eyes to the beauty of mid-century modernist architecture that distinctly developed during the post-colonial era, many examples can be found in the often neglected and ignored old neighborhood apartment complexes and buildings – most of which weren't even designed by architects but of the owners themselves, with respect to the climate and location that created a kind of vernacular architecture for modern Saigon and Southern Vietnam, that deserves to be known and appreciated by everyone. It's not only the older and colonial architecture that is to be venerated and preserved, but also these modern structures that also have history and soul. From then on, I can't seem to look at Saigon the same way as I used to, I also kind of "hunt" for these kinds of details whenever I'm on a bike or walking downtown.
After deciding on a place, it's important for me to go to each spot I draw so I can "collect" the atmosphere and mood of the place, also so I can gather enough references or check out some perspectives I can consider. (With the exception of some collaboration pieces where I draw based on my friend's photograph, but I still visit that certain location to feel the vibe).
Having the view in mind and references at hand, I start to work on my iPad Pro with Adobe Fresco. I start with a rough sketch of the basic structure, just so I know where to start doing the flats (solid color layers). This part is always a challenge and takes much of the time because it's where I must decide the base color palette to set the tone of the artwork. Most of the time I get to decide it from the start, but sometimes I still change it after I complete the picture. After the flats is my favorite part where I paint over the shadows and give it dimension. Then, I add in the highlights, details, textures, and human elements (the guy in yellow of course!).
— Did you experience any difficulties in making the project? What was the most challenging part to you?
Dan: The hardest part of this project was choosing which views to put in, because for sure, there are more than a hundred views to capture the different moods and feelings of Saigon. So this is not a definitive list, but more of what I felt was memorable for me during the time I'm working on it, a starting point, a guide to people who may want to make their own 100 views, or even more!
To capture the mood, the feeling, the essence of a place as a foreigner, I was initially scared as I felt that I may not be able to do it properly, yet I still proceeded. I've met so many people that inspired me and made so many friends, all thanks to this project. Saigon, and Vietnam as a whole, has given me so much, and I am forever grateful for all your support to follow me this far. It is so heartwarming how I get a lot of messages from people mentioning their experience or memories of certain places I share. With that, I feel like I have accomplished it for that artwork – for it to be able to touch the lives of people who hold Saigon so dearly in themselves.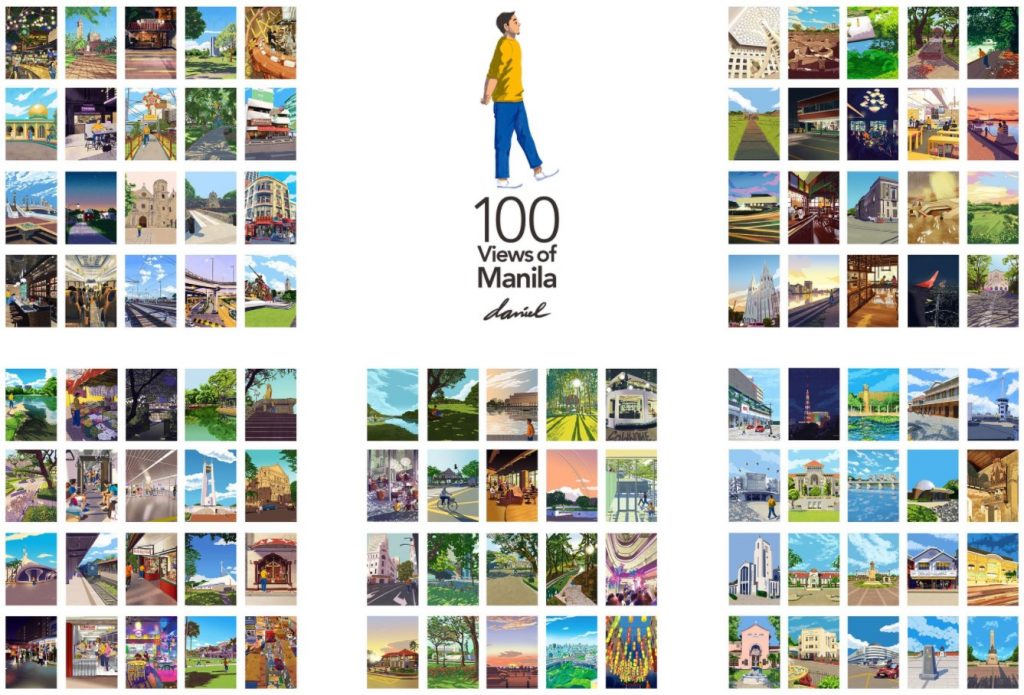 — You made 100 Views of Manila prior to 100 Views of Saigon. Are there any differences in the creative standpoint/process between the two series?
Dan: After working on both cities for this project, I'd say they are similar for me in terms of approach – which is to give a new, fresh perspective, for these places which I believe are often overlooked, misunderstood, or taken for granted.
When I started with Manila, I realized so much that I don't know or appreciate about the city where I grew up, so I felt like a tourist going around – and having that feeling for me isn't much of a bad thing since there is that sense of newness that you try to feel when you look around a place for the first time. But after that, you go beyond from being just a tourist and evolve to learn more and take in as much as how locals see it. You learn to see a place in a multi-faceted way, and it gives a dimension to the work that results from it. I wanted to feel excited with it, even if it's a place I've been to before, the same way I would get excited first visiting a new place.
Moving onto Saigon, it was also the same thing since I didn't know anything about it except the usual touristy information or how a lot still think about it as the war, and not as a place. I wanted to learn more about Saigon, to get past these and discover it in my own way and to see it with fresh eyes and capture the mood and memories that come along with it.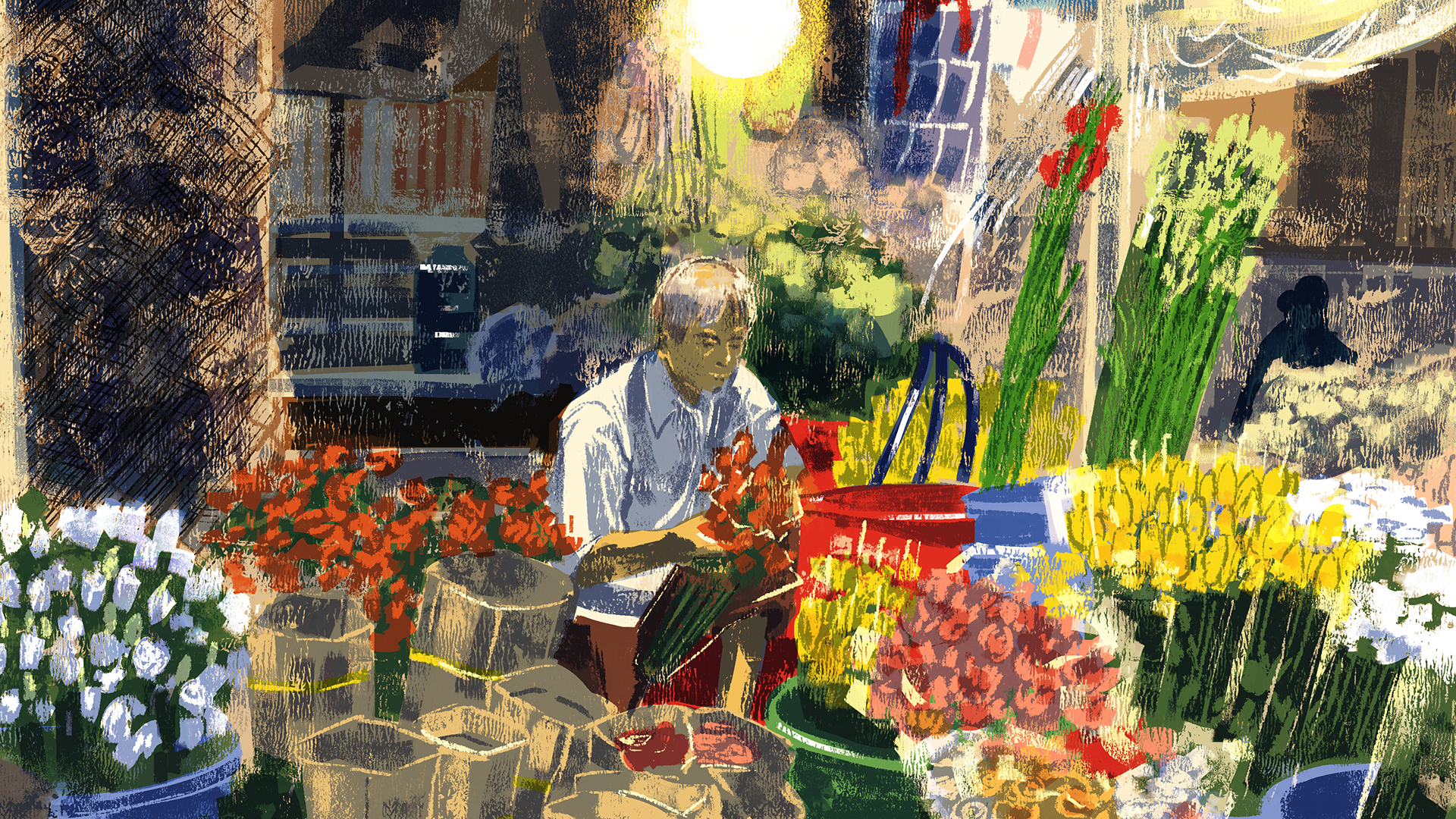 — How long does it usually take for you to finish one picture and how long did it take you to finish the series as a whole?
Dan: It depends on the details of the piece, but usually it takes 2-4 hours on average for each piece, sometimes shorter if I get a good momentum that day, or longer if there's just a lot of details. I started during Tet 2020 since I just stayed in Saigon that time and officially ended just this June 2021. I mentioned before that I already had the 100 finished by the time of the first feature on RGB, but I update most of them from time to time or replace some of them when I chance upon a new one that I feel is more interesting. Currently, since I have finished this series, I share the studies of some views that didn't make it to 100, but I still find good to share.
— Wow, that's a lot of time invested in this series! How did you manage to find the time and inspiration to work on such a big project like this, considering you're also working full time at an advertising agency?
Dan: It was challenging at first, even way back to the Manila series since our work in advertising is mentally and physically demanding, at the end of the day you're just too tired to do other things. But I was looking for a way to somehow create something for myself even for just a few moments in a day. I was inspired so much by the books I read by Austin Kleon (Steal Like an Artist, Show Your Work, Keep Going – this one is my favorite) because he mentioned something about having a "Bliss Station", this place (or time) where you are just focused on your personal work, ideally very early in the morning before everyone else takes over your time.
Since I wake up very early, usually 6AM, I developed this habit of spending an hour or two for my artworks – my "Bliss Station", so there is no excuse for me not to work on it. Whether I'm in the mood or not, I know I need to be present for it. It is a time that I know I must accomplish something for myself, to have that sense of achievement, before anything else takes my time and attention away later in the day. Sometimes I continue a little in the evening, although since I'm mostly tired by that time already, at least I have the mornings the next day to keep coming back to.
Imagine, for example, 2 hours a day is 14 hours a week, is 280 hours a month, is 730 hours a year! Think of all the work you can accumulate by just taking a little part of your time in a day to push yourself. I believe that there is no excuse to doing what you want, you will always find a way if you are willing to.
The artist, Chuck Close, said it best: "Inspiration is for amateurs. The rest of us just show up and get to work. If you wait around for the clouds to part and a bolt of lightning to strike you in the brain, you are not going to make an awful lot of work. All the best ideas come out of the process; they come out of the work itself."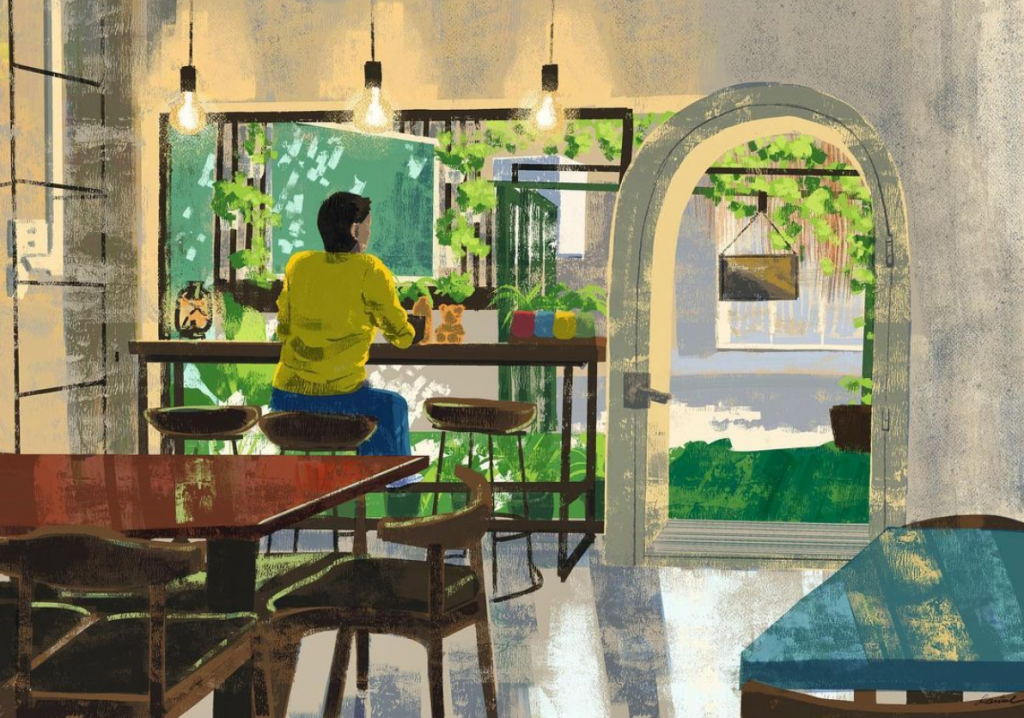 — If you have to choose one picture that you love the most from the series, what will you pick and why?
Dan: It's hard because I love them all… but maybe one of the most memorable one for me would be No. 082 Driving around the Dien Bien Phu Roundabout.
I always pass by this busy area going to work and the scene I drew is a rare moment on a Sunday afternoon when there're not many vehicles going around. When I was drawing this, I decided to feature my friend, since I felt the scene needed a cool bike like his. So I finished the drawing, then the following weekend later, we went cafe-hopping with friends and I rode at the back of his bike… then he unconsciously passed by the roundabout – it gave me a surreal feeling because I felt the artwork coming to life (just like that "life imitates art" feeling)!
— The subjects of the series are mostly places you've been to in Saigon. Do you have a favorite special spot in the city that keeps you coming back?
Dan: It's so hard to pick a favorite from all these places, each of them have their charms! But if it's an area I always enjoy going to from time to time, it would be the area of Tân Định / Đa Kao in District 1 and the tree-lined streets in District 3. I enjoy walking by the creek side of Hoàng Sa/ Trường Sa, surrounded by the local vibe of the area, the many food spots I enjoy and my favorite cafés.
The streets of District 3 are also my favorite since it's still refreshing even on a hot day because of the many trees, and always passing by various styles and periods of architecture with villas, houses and buildings in the Indochine style, up to Southern Vietnamese mid-century modernist style, always refreshes me.
— Another interesting take in 100 Views of Saigon is food. What's the Vietnamese dish that you enjoy the most? Did you try all the food featured in the series?
Dan: Yes, I've tried them all, at least the ones I've featured, but there're certainly more that I haven't shown! I just love Vietnamese food in general, and as a friend put it, it was where he learned to "eat deliciously" due to the richness and variety.
Before I came here, I thought Vietnamese food was just all Cà phê sữa đá, Phở, Bánh mì – but hell I was wrong!
After going around, doing research, and receiving recommendations, there're just so many treasures all around and hidden in unassuming hẻm (alleys). Saigon's street food culture is alive, and even the elevated versions are great to explore given the modern and interesting takes by restaurants and chefs on the usual fare. Saigon is a food paradise, just not a lot of people realize about it!
As for the Vietnamese dish I enjoy the most, I never get tired of Bún thịt nướng. You got noodles, greens, that spicy-sweet fish sauce, combining with flavorful grilled meat and crispy fried rolls. The mix of textures and flavors just make it areally satisfying dish. My favorite is the one in Nguyen Trung Truc, but I also recommend Chi Tuyen, Kieu Bao and Vi Saigon's versions. But having said that, there're so many Vietnamese dishes that I love, I can go all day on these!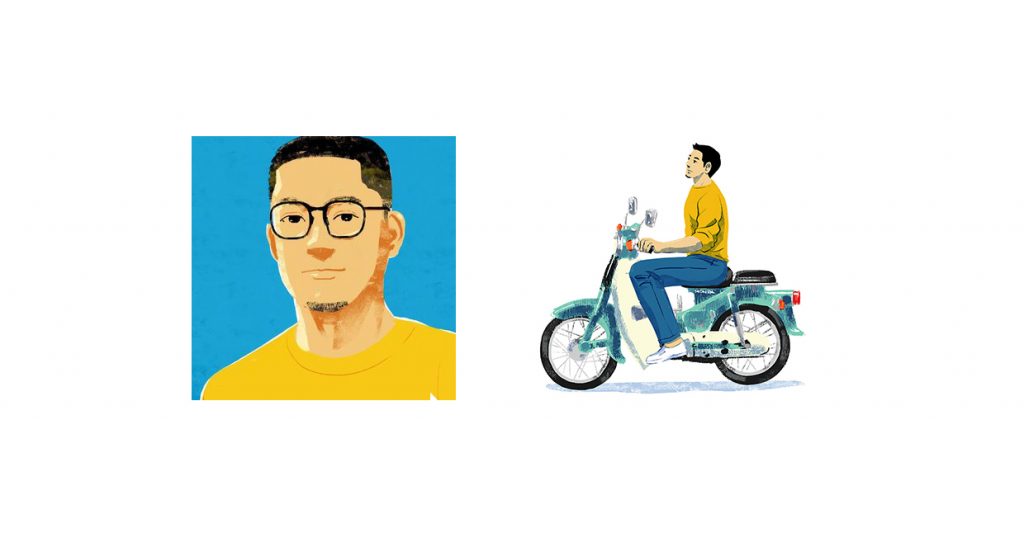 — We can't help but notice there's a guy in yellow sweatshirt and blue pants in (almost) every picture. Is that you? And why are that very signature looks?
Dan: That guy is more of a characterization of me, but not exactly me. I decided to have him in most of the pictures from both Manila and Saigon series to tie them all together, in a way, easy for people who might see my work for the first time to relate it to the other images. Apart from yellow and blue being my favorite colors, the yellow sweatshirt and blue pants are inspired by my favorite character, Nobita Nobi's outfit from the Japanese series Doraemon.
— What's next? Do you have any project in store in the future?
Dan: I'm still preparing for it, still something inspired by Saigon, but I need to prepare the ingredients so… stay tuned in the next few weeks!
— Thank you so much Dan! We wish you all the success and can't wait to see your new works soon!
See the complete series of 100 Views of Saigon here on Dan's Instagram and Behance.